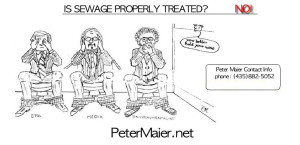 Documentation of the 30 year old quest by Peter Maier to correct an essential water pollution test, responsible for the fact that the EPA failed to implement the Clean Water Act and still allows rivers to be used as giant urinals.
Peter graduated from the University of Delft (Holland), with a doctoral degree in civil engineering and obtained Professional
Engineering licenses in the states of New York and Utah. He worked for the state of New York, a large consulting
engineering firm in Holland and an equipment manufacturing firm in Utah. He was involved in the design and R&D of municipal
and industrial waste-water treatment plants in Europe, Brazil, Mexico, and the USA.
Since 1981 he tried to correct an essential water pollution test, directly responsible for the EPA's Failure to Implement the Clean Water Act.
Do You Want More Information?
Get the PDF here   — Watch the Presentation  — Listen To The Podcast
Watch the video series.

More Resources in these PDF's
Articles PDF
Included In PDF

1. Deseret News 1982
2. Editorial Deseret News 1982
3. The Old Watermanster, Utah Waterline 1983
4. Chapter of HCN articles.
5. Highc Country New articles.
6. Rotten Fish Story
7. Salt Lake City Weekly 2003

Technical Documents PDF
Included In PDF

1. What is Sewage.
2. What is water and sewage treatment.
3. Description of BOD test.
4. BOD Task Group letter in WPCF journal.
5. Are Regulations in touch with Reality, WPCF paper 1983

Official Action Documents
Included In PDF

1. Comments on EPA Docket 1983.
2. Utah State Science Council 1983.
3. Office of Technology Assessment 1987.
4. Testimony before Water Resources Subcommittee 1990.
5. Petition to change secondary treatmment difinition 1992.
6. Lawsuit before Federal Court. Lost 2 to 1 vote.
Dissenting Judge Decision